Catch Report By Glenn Kilpatrick
Once again I was very kindly invited for a days uptiding on Paul Kilpatricks boat Sea Otter 2. "Eight of the lads have dropped out so theres plenty of room" said Paul on the phone last night.
We sailed out through the 8am opening of the bridge and on through the harbour mouth. Paul warmed up the engine, then gave it full licks down to Upgang where we dropped anchor and set out our stall for a bit of uptiding. Two more of the anglers booked on the boat had dropped out overnight leaving Paul out of pocket, but at least this meant there was plenty of room on the boat.
The 2 paying customers had only brought squid and lugworm and my first thoughts were of the guys who complained on wsf last week that Paul had told them to bring the wrong bait.
Armed with every bait under the Sun I feared the worst for the lads as they baited up and cast in. I needn't of worried as the 2 guys from Doncaster soon showed they meant business and both had a fish each on the deck before me and Paul could say "well bloody hell" 
and this was how it continued for the first hour with the lads fishing well on squid and lug whilst myself and Paul were struggling for bites. As the tide picked up at the start of the ebb myself and Paul managed a few fish but nothing bigger than 2 pounds. Then as the tide went into full flow it went dead and we decided on a move up to Goldsborough where Paul said there would be less tide.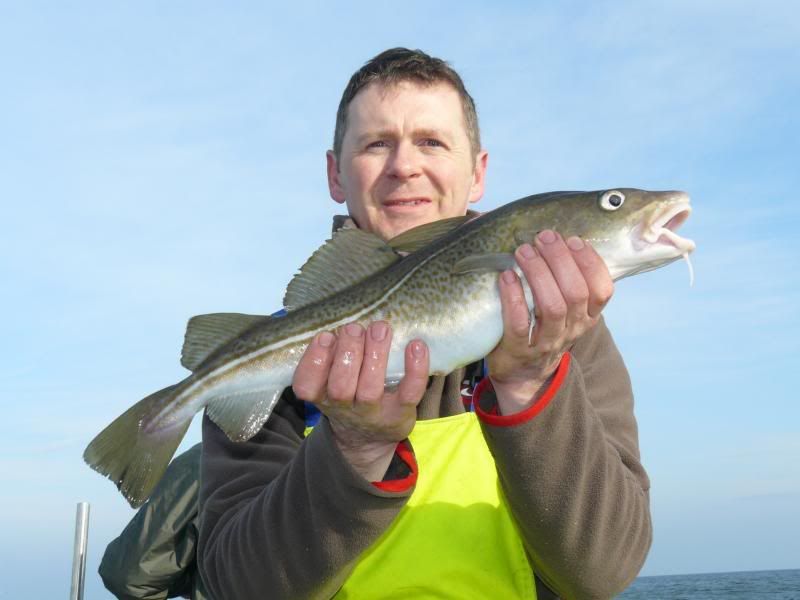 Arriving at Goldsborough we tucked in under the cliffs near the little tunnel. We cast in and waited. Paul was right there was no tide here. But there was also not fish so after 45 minutes without a bite we upped anchor the second time and headed onto the south hard just off Sandsend.
We all cast in an array of baits. The 2 lads from Donny stuck with squid and lug whilst Paul was on fresh Yellowtails and I opted for Cart, rag and tell pie.
After 15 minutes noone had had a bite and Paul declared "Its slow, someone should have had a bite by now". No sooner had he spoke then every rod on the boat started nodding. We were all into fish with myself and Paul getting a better one each around the 5 pounds mark.
It was now 1pm and the next 3 hours were frantic with fish after fish coming to the boat. Admittedly they weren't massive but Im always happy so long as Im catching and I ended up with a grand total of 12 3 of which were in the 5 pounds bracket. Paul had a similar amount as did the 2 lads from Donny. The bites slowed at Low water and although we were still getting some bites they were hard to hit with the boat now drifting about on the anchor rope.
All too soon it was 4pm and time for home. Paul upped the anchor for the final time and it was back to sunny Whitby, gutting and filleting the half dozen fish I kept on the way back in.
All in all another great days fishing, infact far better than I actually felt it might be. Everyone was happy with the few fish they caught and the Pauls customers left happy with a few fish for their families back in Doncaster. Both said they had had a really enjoyable time and were both surprised to catch so many fish so close to shore on their first ever uptiding trip. Both said they would be back for more.